One Nation Under Kids
The new greatest television show on Earth has arrived. CBS debuted Kid Nation tonight, and it was glorious. I teared up maybe 6 times, and laughed out loud even more. For those unfamiliar, Kid Nation takes 40 kids, dumps them in the desert and for 40 days, they need to run their own "unsupervised" society at an abandoned town. City kids, rural kids, older kids (as old as 15) and younger kids (as young as 8) are transplanted to New Mexico and there are SOOOO many likeable characters, from rooster boy, Jared, to the eloquent Michael.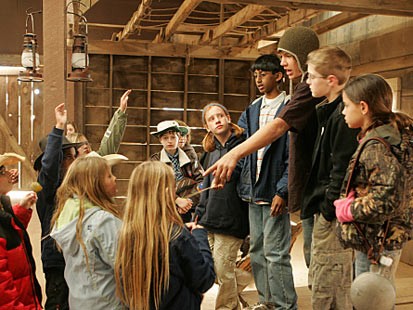 What happens is that there are 4 kids designated as the town council. They try to lead the rest of the kids towards building a life in the rundown town. Eventually, the kids are divvied up into districts (blue, red, yellow and green) and compete for different status in the town. For winning a challenge, a district becomes the Upper Class (and earns $1 for pretty much nothing), second place are the Merchants (earning .50 cents) who run the shops and the saloon (where kids can buy soda and eat candy), third place is the Cooks (earning .25 cents), while in last are the Laborers (earning .10 for hauling water, etc.) – and the money can be spent on candy, books, toys (even bikes).
Of course, the idea behind Kid Nation isn't to pit kids against one another but to extract the best out of everyone, and with that said, at every town hall meeting (which I think happens every 2 or 3 days), the ruling council will award a gold star (worth $20K) to whomever they feel deserves it the most. I can't wait till they go all corrupt and just award it to themselves.
Highly enjoyable and recommended across the board!